Fire Rated Ducting Doors - Fire Hose Cabinet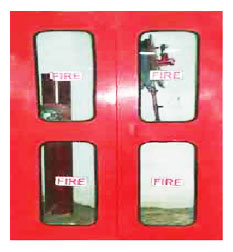 We are Manufacturer, Supplier, Exporter, Installation, Service Provider of Fire Rated Ducting Doors, Fire Hose Cabinets and our setup is situated in Pune, Maharashtra, India.
➧ Standard FHC with Frame Suitable to fit in the Duct made of not less than 16 Gauge sheet pressed from Single Rebate Profile of Size 50mm x 70 mm with Provision of MS Fastener Hole on each Vertical Jamb to fix in to Wall/ RCC Surface Also Frame Shall be Join with Shutter by MS Concealed Hinges.
➧ Shutter Made 20 mm thick by using CR18 Gauge Sheet stilt on all side of Shutter with 4-5 mm Breakable Glass and PVC Glass beading, Provision of L-Key, Lock 2 Nos,( Top & Bottom) & 100 mm MS Handle to be fixed on Shutter.
➧ The Doors are finished with One Coat of Zinc Comet Primer and Finally Finished with FD PO Red Paint / PO Red Power Coating.